INDIE SPOTLIGHT INTERVIEW 
14th January 2021
I am so lucky and excited to be interviewed by book reviewer Sue Bavey.  You can read the Indie Spotlight interview here. Sue's feature showcases an interesting indie publisher each week. 
You can also catch up on Sue's many book musings and reviews here. 
January 14, 2021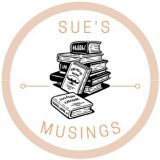 FIRST LINES FRIDAYS – 8th January 2021
A weekly look at the first lines of books …
Please check out First Lines Fridays – a weekly feature for book lovers hosted by @Wandering Words. What if instead of judging a book by its cover, its author or its prestige, we judged it by its opening lines? You can also read up on the latest reads at Sues' Musings' WWW Wednesdays here.
You can take a sneak peak at the opening lines of my short story Arctic Haze, from my collection entitled LAYERS here.     I hope you enjoy it ;o) 
January 8, 2021
"SHORT STORIES WITH INTERESTING CHARACTERS AND CULTURES, EACH SET IN A DIFFERENT COUNTRY."
A 4-star review, by Sue Bavey.
I thank Sue wholeheartedly for her wonderful review of Layers, and I'm grateful for the time that Sue took to read the collection and compile the review.  You can check out her review here.
Sue muses about many great reads on her website, as also hosts many wonderful guests on her Indie Spotlight feature – you can take a peek here. 
January 8, 2021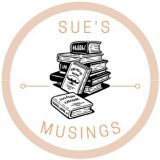 "A WONDERFUL COLLECTION." 
My second 5-star review! By Beem Weeks. 
A second five-star review is like a second Christmas for the debut author. And this author is no less over the moon! I know that many authors have many, many more such cute little golden starts (and some even no longer count theirs) but I just can't help getting all hyped up about it.   
From the bottom of my heart, I thank Beem Weeks for taking the time to read my collection. And I'm glad that he enjoyed the stories ;o)  Beem is an author of novels, short stories and essays.  Together with Stephen Geez, Beem also hosts the Voice of Indie podcasts (a production of Fresh Ink Group). You can catch them, and their interesting guests, here.
December 29, 2020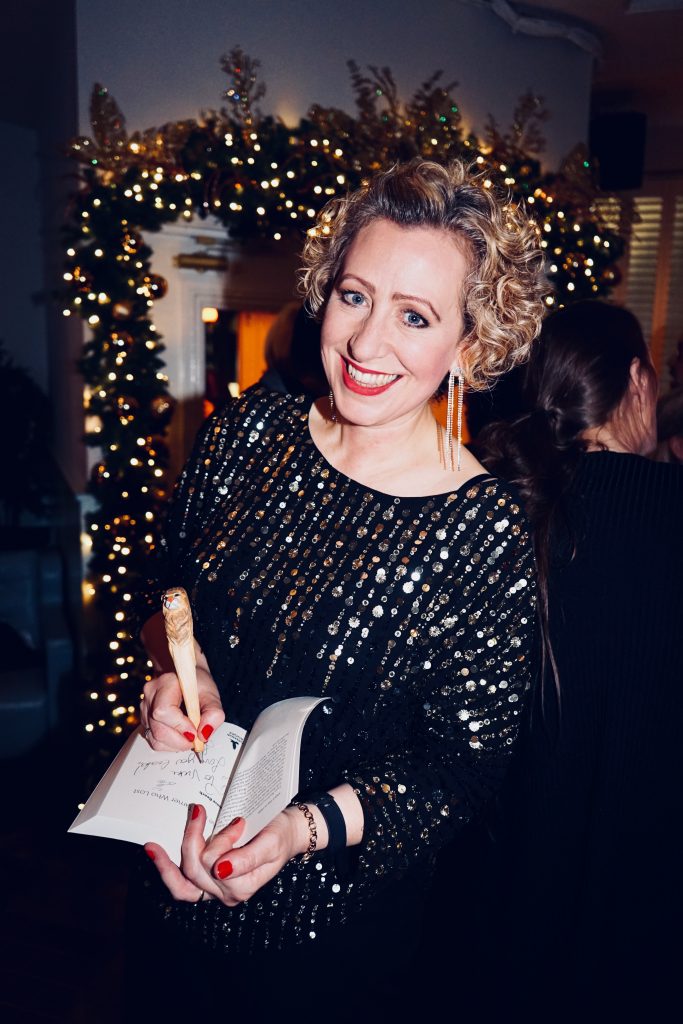 COMPETITION RUNNER-UP !
"50 Because I'm 50 Competition."
In early December, 2020, I received the wonderful news that my short story, Mothers, was chosen as a runner-up in a competition organised by the lovely Louise Beech. You can read Mothers on Louise's blog here.
This is the first time ever that I've been placed in any competition whatsoever, and I thank Louise for the exciting news. Louise Beech is a British author of six novels. Find out more about Louise here! 
December 5, 2020
MY FIRST 5-STAR REVIEW!
"This is a strong debut."
A writer will never forget their first-ever five-star review. I got mine on Goodreads, on this very special day in November, 2020.
I thank Oksana for taking the time to read my collection, and I'm forever grateful for this milestone on my writer's path. I will do my best to keep up this pace ;o)
You can check out Oksana's reads and reviews here. 
November 17, 2020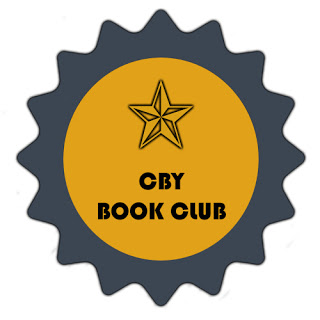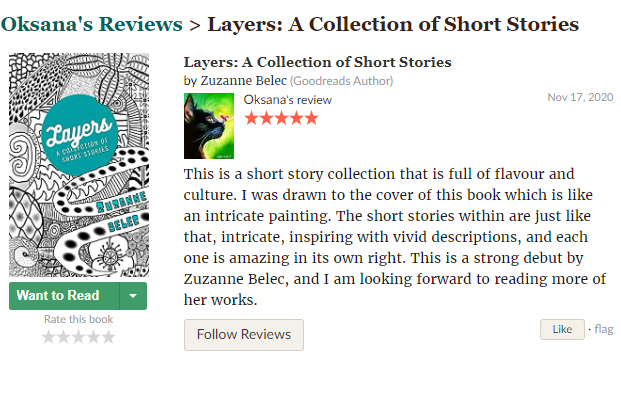 FIRST-EVER REVIEW!
"A good read."
On this day, I was bowled over with my first review, for Layers: A Collection of Short Stories. It was a 4-star review on Amazon and Goodreads. I am grateful to Al Stone for his honest and objective review, and for permission to flaunt my Gold CBY Book Club badge ;o)
Al is Owner of CBY Book Club and author of the YA Fantasy series Arcadia: Talisman Of El (Book 1), Blackout (Book 2) and Ground Zero (Book 3). You can read his blog here. 
November 16, 2020